Let Us Help Bring Your Outdoor Living Space To Life!                                              
Deck Builders In Dayton, Ohio
We are professional local deck builders in Dayton, Ohio that offer top-notch services in custom composite and wood decking, pool deck, porches, pergolas, patio covers, and three-season rooms. Our contractors have acquired in-depth expertise and knowledge through our 20 years of being in the industry, making our service output superior.

We've always taken pride in providing quality service to each customer no matter what they're looking for. Our goal is not just about building beautiful structures, but creating memories that your family will remember forever! All our projects are built to last with quality materials and craftsmanship. Whether you're looking to add to one of your existing decks or need help coming up with a new design for a deck replacement, our expert contractors can help make it happen.

Quality Craftsmanship For Your Outdoor Space
Our organization offers unrivaled craftsmanship and unbeatable client assistance, while working closely with you through each progression of the plan. They take every development measure to make an outdoor living space that suits you and your family's desire.
Our 10 year-old Trex deck's stairs had started to collapse and split. After I phoned Dayton Deck Builders, they came to our location to assess the problems we were experiencing and put a plan into place. Steps and a landing were completely rebuilt. They arrived on time, put in a lot of effort, and finished my project as soon as it was due. Additionally, calls and SMS to them whenever we wanted to talk with them were promptly returned! They performed a fantastic job, and we are delighted! Without a doubt, we definitely endorse Dayton Deck Builders!
We appreciate the entire team at Dayton Deck Builders, who made it possible to get the deck of our dreams. All of them were excellent communicators. The level of detail is superb.
April Gonzales
2022-08-11
Troy and his crew built a beautiful deck for us. They went above our expectations. Pricing was fair and they had great personalities and work ethics. Also very responsive and I would recommend!
They do great work. They rebuilt our deck with new composite materials and it came out beautiful. Very honest and easy to work with and gave us a fair price. I would highly recommend Dayton Deck Builders.
Lillian Miller
2022-05-09
Very professional and great customer service. They kept us informed throughout the whole process. We built a new deck behind our house and it came out perfect!
I absolutely love are new deck! They did an amazing job helping us with the design and choosing the materials. Would definitely recommend and I personally plan on using them for future outdoor projects.
They're amazing! They gave us a variety of methods to construct our deck. If you're looking for a deck I highly recommend Dayton Deck Builders!! We picked the Timbertech based on their suggestion and we couldn't be happier!!
Explore Our Outdoor Construction Services
We build outdoor decks, patios, hardscapes, pergolas, covered porches, and more! Dayton Deck Builders has the experience and skills to make your outdoor living space exactly the way that you envision it. See examples of our different services below to assist you with getting started with your next outdoor project.
Wood decking is a popular option and their are many types of wood to choose from. They make beautiful decks and If properly maintained can last up to 15 years. Materials include, pine wood, cedar, redwood, tropical hardwoods and more! Prices can vary depending on the type of wood you choose. 
Composite decking is an incredible, durable, wood-elective. It's easy to maintain and you wont need to apply sealer or stain every couple years. Little maintenance is required and the lifespan of composite decks is long lasting. This will make for a perfect deck for your outdoor space! 
We have very skilled carpenters that will work closely with you to create a custom deck that fits exactly what you're looking for. Throughout the process our deck contractors will give you design options that fit the architecture of your property. 
Bring out your outdoor space with beautiful custom design pavers for your new patio or walkways. We have limitless patterns and colors to choose from to help fit your style. The possibilities are endless and you will be surprised to see all the shapes, materials, and textures! 
Our custom patio covers are a great addition for your backyard design. Creating a patio enclosure with your patio will complement your home like no other. You can then spend time outside underneath the cover in the summer heat to enjoy the beautiful sunset with your family.
We are experts when it comes to designing custom Pergolas, Arbors, and Gazebos. Our carpenters have years of experience and can create any type of pergola to help keep you cool in the summer months. There are also many types of material to choose from which include, cedar, redwood, and more to fit any design! 
Covered porches can be a great place to enjoy nature. They provide protection from the rain, sun or snow and are often equipped with beautiful plants and flowers that make them feel at home. Homes with covered porches have many benefits such as shielding you from inclement weather while providing an opportunity for some peaceful reflection.
Our team of experts will design an Outdoor pavilion that suits your needs! An outdoor pavilion is a type of structure that can be used for many different purposes. Its versatile nature makes it great as an event space, or even just a place where you and your family could relax outdoors in the summertime hours. Contact our deck builders today for a free estitmate!
If you've been searching for the perfect way to enjoy your outdoor space year-round, then look no further. The new construction of a sunroom will help you get that much closer to enjoying all four seasons without ever having to leave home! All-season rooms come with heating and cooling systems that can regulate any temperature during those cold winter months or when it's too hot out on summer days. With these luxury additions, it'll be easier than ever before to make this house truly feel like a home!
Your Trusted Local Deck Contactors
Our company has over 20 years of experience that help form the craftmanship and high-quality wood and composite decks, porches, pergolas and other services we offer. We highly value our clients, so we make sure our deck builders have the full ability to render our services with the ultimate quality. Our deck contractors are extensively experienced, licensed and most of all, they possess the knowledge of contemporary industry trends. Therefore. they are able to provide you various choices that meet your style and budget.
Why Choose Our Deck Builders In Dayton, Ohio
Our deck company has years of experience in designing and building outdoor structures to bring out your living space. No matter how big or small your project may be, our team stands ready to take on any task. We also focus on tending to our customers first, which is why Dayton Deck Builders is known to be one of the best deck companies in Ohio.
When we build your outdoor living space, we start by designing it with your needs and preferences in mind. Next, we choose the right materials for the job at hand to ensure that your deck or patio is built to last. We carefully follow all of the proper building standards when we construct and install any part of your new outdoor living space. Once it's completed, you'll be able to sit back and relax in a beautiful outdoor setting that suits your lifestyle perfectly!
We love serving our community and we only strive to provide high quality customer service. It's important to us to build a strong lasting relationship with our clients and help them achieve the outdoor experience they're searching for. 
High Quality Construction
Our company follows the best and up to date practices for deck installation and outdoor construction to ensure only quality results. This way, our clients trust that they are getting the best deck, porches or pergolas in the industry through our up-to-date methods, industry-grade tools and machinery, along with our top-quality materials.
We offer highly competitive rates with the local market. When you work with us, you can expect to get very affordable prices with top quality outdoor construction.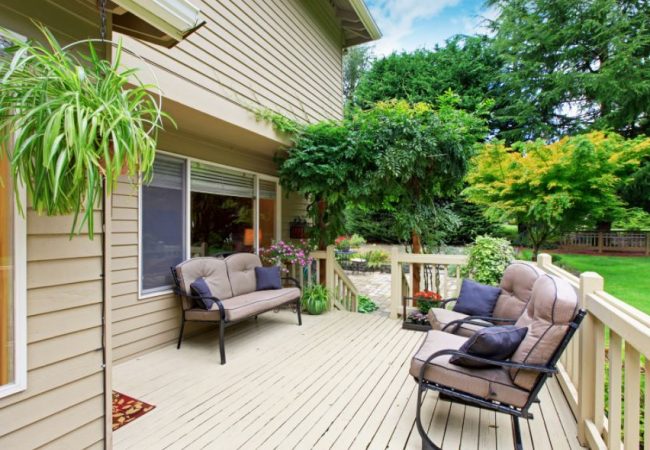 Dayton Deck Builders is here to help you build your dream outdoor living spaces. We only use the best quality materials, tools, and machinery to execute our decking services. With over 20 years of experience in building quality decks from start to finish, we guarantee our workmanship. Give us a call today to schedule your free estimate on your next outdoor deck construction project!