It's time to get outside and enjoy the warm weather! Dayton Deck Builders provides a variety of high-quality decking options for homeowners in the Dayton, Ohio area. From cedar to composite, we have a deck that is perfect for your needs. We can help design your dream backyard space with an outdoor living space or patch up that old deck you've been meaning to replace. Let us know what type of work you need done on your home and we'll give you a free estimate. 
Expert Wood Deck Installation
A new deck can be a great addition to your home, but you must take steps before installation. A professional contractor should always do the work for safety reasons and because this type of project requires planning and expertise in construction techniques. The first step would be determining what size deck will best fit your landscape. Not only do we have to take into account your home architecture, but also its surroundings like trees or other buildings. You'll want one long enough so you can enjoy your outdoor living space throughout the years. You will be able to entertain guests comfortably without feeling cramped inside after dinner outdoors. Once you have decided what type of outdoor space you want to create, then comes choosing building materials such as wood types.
Various Types Of Wood Decks Available To Suit Your Needs
Wood decks are a popular choice for many homeowners, and there is no shortage of styles to choose from. Some prefer the classic look of the natural wood grain while others opt for more contemporary finishes that mimic brick or stone tiles. From small patterns on the decking surface to intricate designs in planks laid side by side, today's options offer something different depending on your taste!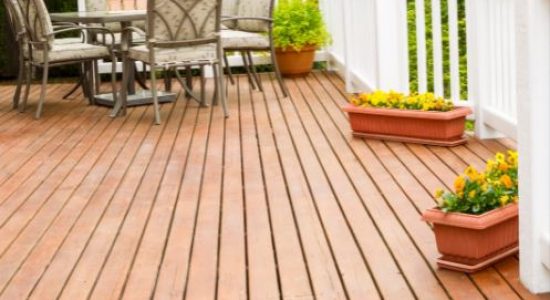 Cedar is a popular option for decks because it's durable, resists rot and insect infestation better than most other woods. It also keeps its moisture content level when going from one climate zone to the next and doesn't easily warp or split. Cedar is a great natural-looking material for your deck, easy to stain, and stays atop surfaces exposed to moisture. However, it does require regular care such as pressure washing and refinishing/staining every two or three years
Redwood is another western softwood that is often used in outdoor deck builds. Redwood is similar to cedar when it comes to durability and ruggedness. Like cedar, redwood withstands moisture, rot, and insects because of its natural oils and tannins. When you care for a redwood deck, make sure you pressure wash it regularly to remove dirt and grime. Also, seal the redwood deck with a UV-resistant finish that will protect against the sun's harmful rays. The cost of redwood usually varies depending on location in the US. For example, it is more expensive than pressure-treated wood elsewhere but cheaper on the west coast.
Pressure Treated Wood Deck
Pressure-treated wood is often the most budget-friendly option available for outdoor decks. It comes in a variety of types, but two are by far the most common: southern yellow pine and douglas fir. Pressure-treated wood is the most economical option available for decking, at a price that's more easily accessible. It doesn't have an attractive appearance as some other options and requires regular maintenance to ensure its longevity. Annual pressure washing and a coat of stain every few years will keep your deck looking good.
You're considering a wood deck, but you have some questions? Well take a look below and we'll try to answer them! If not be sure to contact us today. To see more about the deck services that we provide in the Dayton area take a look at our homepage for details.